Wheel Brooch
Wheel Brooch Inspiration
Zen and the Art of Motorcycle Maintenance. In gold.
My inspiration for this piece was a motorcycle wheel. But I wanted to take it beyond an ordinary motorcycle. I wanted it big, baroque, out of another time.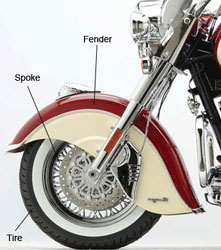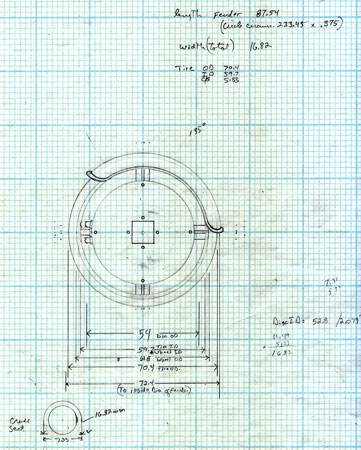 Sketch Stage
I pictured my fantasy motorcycle roaring through the dusty Himalayan foothills. Palden Namgyal, one of our artisan goldsmiths, interpreted the dust swirling behind the bike as an endless, Tibetan style swirl motif. He executed the design in 22k gold repousse for the front fender.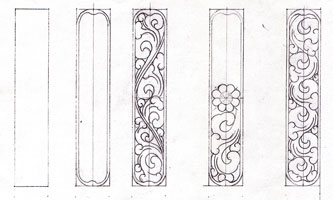 Wheel Brooch
To maintain a strong Himalayan character, I used black, red and gold – the colors of Tibetan architecture – as the palette for the piece. The wheel disc is hammer formed platinum, the spokes are red gold with 22k detail, the wheel rim is blackened sterling and the tire is black rubber. When not being worn, the Wheel is cresting a fused black glass hill that serves as its pedestal.
The Wheel Brooch was made for the 1997 American Jewelry Design Council Wheel Exhibition.